Words: Colin Brownbill
With a truly relentless tour schedule and the production productivity to match, Sidney 'Hurricane' Charles is something akin to a force of nature. His pumping brand of energetic, bass-driven house has won over clubs from Watergate in his native Berlin to exotic locations like Crobar in Argentina, while his back-to-backs with Santé have become an essential dancefloor experience, most notably at Space Ibiza's already legendary closing party.
"When we started our set the crowd went absolutely mental right from the first track we played" he exclaims over email, "you could really feel that everyone there wanted to get the best out of their last night at Space!" With a 03.30 set time, Charles and Santé certainly had pride of place, their status no doubt cemented by numerous B2B sets in the Discoteca throughout the summer and a highly successful season at The Vista Club with their Do Not Sleep party in 2015.
But it's not just his DJ sets that make The Hurricane Kid a dancefloor favourite. His releases on the likes of Truesoul, 20/20 and Avotre (the label he presides over with Santé) all deliver the type of incendiary heat which is designed to make you sweat. There's no holding back, Sidney Charles is on fire.
Ahead of his Sub Club debut tomorrow night (Thu 20th) at a special HIDE x UBER showcase with Ki Creighton and Junior G, we managed to catch up with the producer to talk more about the Space Closing Party, his relationship with Santé on and off the decks, and why he's particularly excited about coming back to Glasgow:


SynthGlasgow: You had the privilege of playing at Space Ibiza's closing party recently, where you went b2b with Santé on the Terrace. Can you tell us a little about what the club meant to you?
Sidney: As a clubber in the early stages of my career, I loved to go to Space to hear my favourite DJs. I still think Space had the best soundsystem on the island and it was always a dream for me to play at Space one day. Now I've played several gigs there so I'm even sadder that Space is probably closed forever. It was just perfect for both the crowd and the DJ; my favourite room was The Terrace because I just loved its size and the way it is was constructed. It was just a DJ's paradise.
SG: The Closing Party was an absolute marathon event which eventually finished late Monday morning. Your set was at 03.30 – can you describe the mood on The Terrace at that time? And what were your highlights from the party?
Sidney: Before I played my set on The Terrace I was listening to Carl Cox's set outside in the car park. He played classic after classic and not his usual techno set. It was a very melancholic moment as well, as I knew this was probably the last time I was going to listen to Carl Cox at this venue. Later on I went over to the Discoteca to check out Carl Craig, and after all these years he is still one of my favourites as well.
When we started our set the crowd went absolutely mental right from the first track we played. You could really feel that everyone who was there wanted to get the best out of their last night at Space!
SG: You've played b2b with Santé numerous times over the summer, with electric sets at Elrow, Warriors and Project Club LA to name a few; how would you describe your relationship with him, both on and off the decks?
Sidney: My first ever release was on a label called Kling Klong and the label manager asked Santé whether he would be up for doing a remix. This was how I first met Santé, over the internet, and we were exchanging music from time to time. After I decided to move to Berlin I met Santé for the first time in person and we had good time talking about music. During this time he was in the middle of planning Avotre and I was very happy when he asked me to be a part of it.
We started with showcases in Berlin and also some smaller places in Germany. When I think back, it's crazy how much the label has developed over the last 4 years. Santé started Avotre in 2012 and he asked me from the beginning whether I wanted to be involved and help him out as an A&R.
With time we were working more closely together and also played more frequently at Avotre events. Promoters and the people really appreciated it when we played b2b instead of single sets, so we decided to do that from time to time. I guess Santé and I got a good feeling for the sound we wanted to bring to the crowd while we were playing. Our similar taste makes it easy to adapt to each other and create a good mix. All in all, it's nice to create an atmosphere together, make it fun and also have more time to drink in-between the transitions!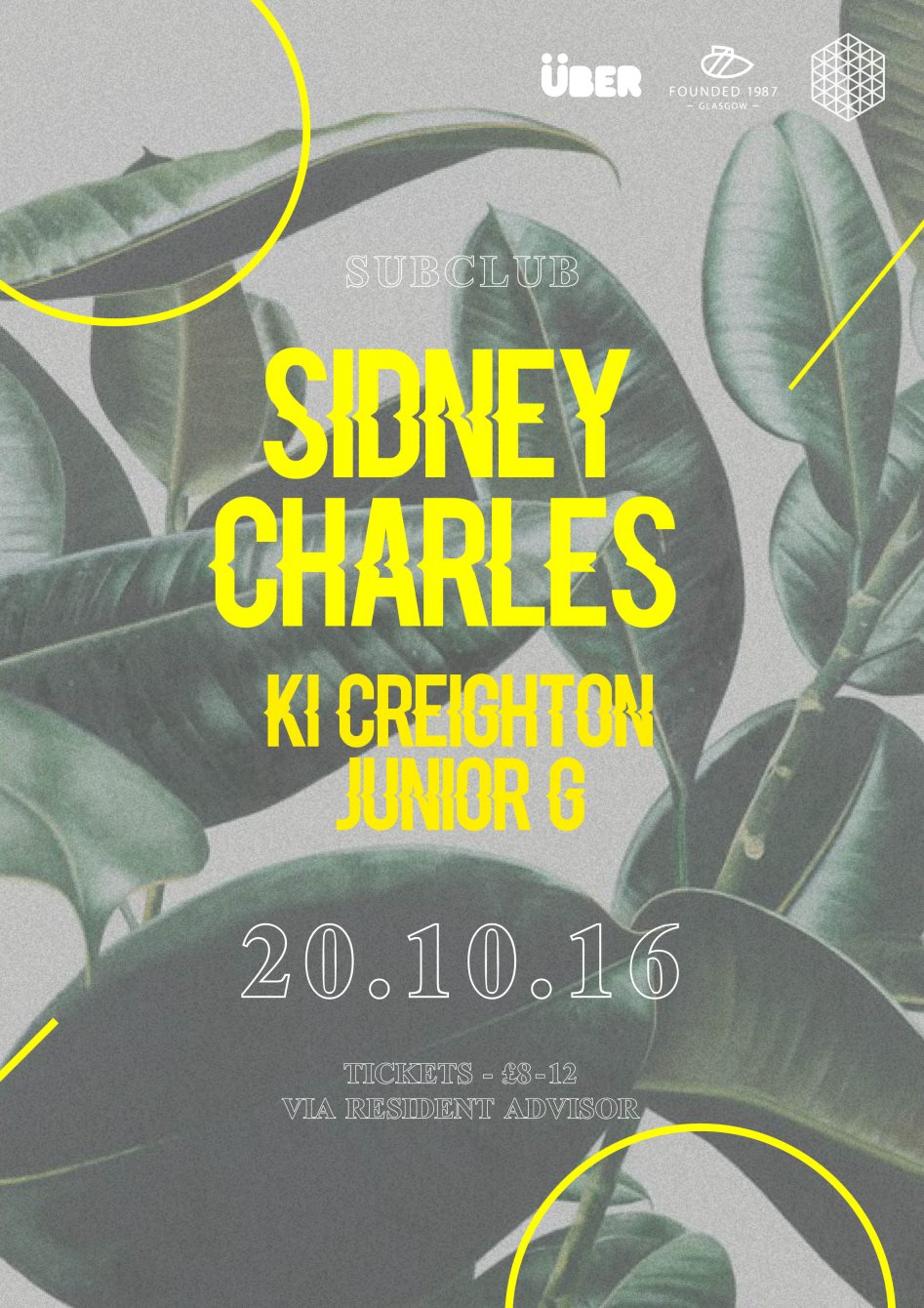 SG: You've been pretty busy in the studio again this year with standout EPs on Truesoul, Avotre and 20/20. How do you balance your relentless touring schedule with studio time? Do you try and produce on the road?
Sidney: I spend most of my free-time in the studio. So midweek I always work on musical ideas as well trying to find new talent for our label, Avotre. I'm also working on the road, but I'm limited because I don't have all my gear and hardware with me.
When I'm on the road I'm just starting to create musical ideas and work on some grooves, but I always have to go back to the studio to finish my tracks. This also depends on my mood; sometimes I don't hit the studio for a whole week because I feel I don't have a lot of creative energy…and then the week after my creative flow is back again.
SG: We're absolutely buzzed that you're coming back to Glasgow this week, and to make your Sub Club debut too which should be pretty special. Is Sub Club somewhere you've heard about? And do you prefer more intimate club spaces?
Sidney: Oh yes, I've heard many stories about Sub Club. As far as I know it's the most legendary club in Scotland for electronic music. I'm super happy to be able to play there, even more so because I know the Scottish crowd always goes mental! I love intimate places because it fits my house sound very well! Especially in Glasgow; I have played in some cool intimate venues there already and I always have had a mint time.
SG: Finally, as we're about to head into the darker months, what have you got coming up that you're really looking forward to? Are you going to give yourself some time off?!
Sidney: I actually really like the autumn and winter time, because it makes me really productive. Nevertheless, after some months without sun you can get a bit moody, so I'm looking forward to going on tour to Chile and Columbia in November, as well as Brazil in December. At the beginning of the year I always take 1-2 weeks off and I spend some time in Mexico to chill before and after the BPM festival.
Sidney Charles plays HIDE x UBER alongside Ki Creighton and Junior G at the Sub Club this Thursday (20th). Advance tickets are available from Resident Advisor priced at £10.00 (excl fees). Sidney Charles 'Sky High' EP is out now on Truesoul.
Sidney Charles on Soundcloud
Sidney Charles on Facebook
Sidney Charles on Twitter